2020
Following the cancellation of the A-level examinations, students received results based on either the Centre Adjusted Grades or the Ofqual algorithm (whichever was higher).
The overall ALPS score for the year group was a 2, or "Outstanding" and in line with previous years.
Despite the challenges resulting from the uncertainty and changes in policy by the Department for Education and Ofqual, 83% of students achieved their first choice university places.  97% of students achieved their intended destinations, supported by our experienced and proactive Sixth Form team and our Careers Advisor.
2019
Congratulations to all our students on their successes in their A Level examinations.  Students leave Waddesdon to take up a range of opportunities, including places at Oxford, Russell Group universities, and prestigious apprenticeships.  Whatever their destination, we wish our students the very best for future happiness, success and fulfilment.
Our students' achievements were yet again Very Good (ALPS 4), with our three year progress measure deemed to be Outstanding (ALPS 2).  41 of all grades were A* or A.
We are grateful to the hard work of our teachers and the unwavering support of parents and families.
The vast majority of students achieved their planned destination.  They take with them our very best wishes for future happiness, success and fulfilment.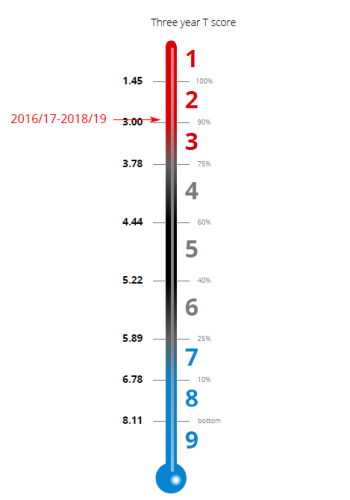 | | | | | | | |
| --- | --- | --- | --- | --- | --- | --- |
| | 2020 | 2019 | 2018 | 2017 | 2016 | 2015 |
| % Pass Rate | 100 | 99.4 | 99.7 | 99.4 | 99.5 | 99.1 |
| % A* Grades | 9.5 | 2.1 | 8.4 | 7.8 | 4.6 | 2.9 |
| % A* A Grades | 25.3 | 11.2 | 27.6 | 24.8 | 19.7 | 11.7 |
| % A* AB Grades | 58.6 | 44.0 | 58.2 | 55.8 | 54.6 | 42.7 |
| % A* ABC Grades | 88.0 | 76.1 | 86.1 | 82.2 | 85.4 | 77.7 |
Subject Breakdown
| | | | | |
| --- | --- | --- | --- | --- |
| Qualification Name | % A* – B | % A* – C | % A* – E | Students |
| A-Level Art & Design | 62 | 100 | 100 | 13 |
| A-Level Art Graphics | 80 | 80 | 100 | 10 |
| A-Level Art Photography | 55 | 100 | 100 | 11 |
| A-Level Biology | 28 | 56 | 100 | 18 |
| A-Level Business | 58 | 96 | 100 | 24 |
| A-Level Chemistry | 50 | 50 | 100 | 4 |
| A-Level Drama | 29 | 86 | 100 | 7 |
| A-Level English Literature | 27 | 68 | 100 | 22 |
| A-Level French | 0 | 100 | 100 | 1 |
| A-Level Geography | 23 | 64 | 100 | 22 |
| A-Level History | 32 | 73 | 100 | 22 |
| A-Level Maths | 44 | 89 | 100 | 9 |
| A-Level Maths Further | 100 | 100 | 100 | 3 |
| A-Level Media Studies | 80 | 100 | 100 | 15 |
| A-Level PE | 0 | 64 | 100 | 11 |
| A-Level Physics | 50 | 83 | 100 | 6 |
| A-Level Psychology | 58 | 85 | 100 | 33 |
| A-Level RS | 46 | 74 | 97 | 35 |
| A-Level Sociology | 31 | 69 | 100 | 16 |
| A-Level Spanish | 0 | 100 | 100 | 2 |
| A-Level Textiles | 100 | 100 | 100 | 1 |
| BTEC Music Diploma | 25 | 75 | 100 | 4 |
| L3 Applied Science Diploma | 0 | 0 | 100 | 15 |
| L3 Food & Nutrition | 0 | 50 | 83 | 6 |
| L3 LIBF Diploma | 75 | 100 | 100 | 12 |
| EPQ | 67 | 93 | 100 | 15 |