A group of our Year 12s have been on a leadership skills course, and they have been telling us how much they have enjoyed using what they learned to run sports festivals for children.
Every year, the Year 12 students have the option of signing up for a leadership course called. the C.S.L.A. This stands for Community Sports Leader Award and is designed to encourage and train young people to feel confident when leading others, mainly in a sports situation. The skills are transferable though and will help anyone feel more confident when standing up in front of others at school and beyond. The C.S.L.A. students train every Wednesday during lesson 5 with the support of Mrs Cook. 
Not surprisingly, this year has been affected by the pandemic and some early festivals have been held at our link Primary schools rather than here at Waddesdon. Local Primary schools that have taken part this year include Ickford, Quainton, Brill, Long Crendon and Oakley.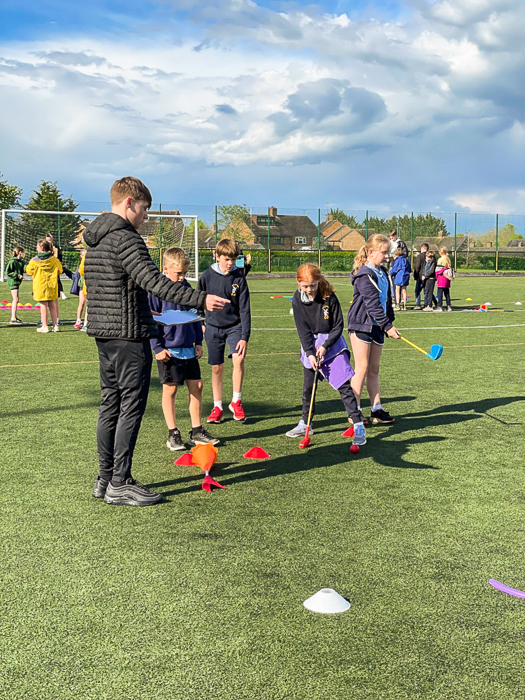 The Year 12s however have been able to lead some face to face festivals this term and have simply been outstanding. These comments are from the leaders on their experience of leading their first festivals this year. Hopefully, you will be tempted to sign up when you are in Year 12!
"I felt confident using the leader skills I had learnt through the sports leader sessions in leading the primary school students in their netball tournament. I really enjoyed being part of their experience and making it memorable for them and felt it was good fun for both myself and the primary school students. I think the tournament was very successful because everyone was able to work well together and apply what we had learnt about leading as a team to the tournament."
– Sophie
"Feels amazing to lead as a role model for younger people in sport and to inspire the next generation."
– Emily
"The Year 6's at the sports festival were all involved, it was great to see all the individual talent."
– Opeoluwa