Values and Ethos
We are delighted to introduce you to Waddesdon Sixth Form!
As a school, we strive to support and challenge every Sixth Form student to achieve their very best on their chosen Programme of Study.  As well as ensuring our students thrive academically, we aim to help them to develop into well-rounded, responsible young adults, ready to face the challenges of the modern world. To give back to the community and develop key employability skills, we encourage students to make the most of the many opportunities open to them.
We are passionate about supporting every student to achieve their post 18 aspirations, whether they be university, a higher apprenticeship, employment or a Gap Year.
We pride ourselves on being an inclusive Sixth Form, with the majority of our own Year 11 students choosing to make the transition to our Sixth Form. We also welcome approximately one-third of our Sixth Form students from other schools.
The school values of Dignity and Respect are rooted at our core; we endeavour to help students settle into Sixth Form life quickly and become part of the 'Sixth Form Family', the big brothers and sisters of our school community. Sixth Form students set the tone for the whole school and the business dress code helps establish a professional atmosphere.
We set very high expectations and standards for all of our students and we are incredibly proud of their achievements.
Meet the Team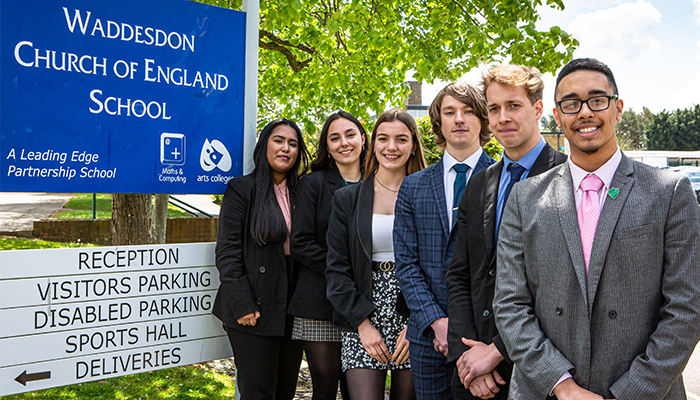 Heads of School: Nafseen, Ashleigh, Alice, James, Harry, and Aqeel
Student Leadership
Our Heads of School play a vital role in leading the student body, representing the voice of the students, and acting as role models to their peers and younger students. Nafseen and Aqeel, as Head Girl and Head Boy, and their Deputies, Alice, Ashleigh, James and Harry, are very ably supported by a team of ten Senior Prefects and forty Prefects. Students who join the school in Year 12 are well represented amongst our student leaders.
Staff
Ms McIver is the Head of Sixth Form and Assistant Headteacher. Miss Aldridge and Mrs McKenzie are Heads of Year in the Sixth Form, leading their year groups through from Year 12 to Year 13. Miss Hay is the Sixth Form Administrator and Student Support Officer and the first point of contact on the telephone. There are ten Sixth Form tutor groups, comprised of Year 12 and Year 13 students, led by a very experienced team of form tutors.